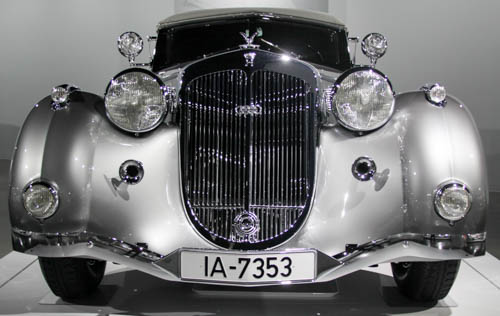 Excellent for classic vehicles
Classic and vintage vehicles require extra attention. Have they been restored or modified, and at what level of attention to detail? Have they been meticulously maintained and serviced? If you need a classic car appraisal in Southern California, trust the experts at IMC Inspection.
IMC Inspection offers the Classic package because classics need a closer look in order to capture the true history and condition of this historic machine. This vintage car inspection is essential for any car collector looking for an extra set of eyes to offer an opinion. Whether you have a collection of vintage cars or it has always been your dream and you are finally acting on purchasing one, our automobile experts can help you. Generally focused in the Southern California area, we perform classic car inspections and appraisals, so you know what your car is worth if you own a vintage car and are trying to sell it, or if you are looking to buy. Vintage cars can be tricky to assess since the makes and models were made so differently than they are today. Our California car inspection experts have years of experience and are very familiar with cars that were made earlier than 1990, which is the age group that the classic car pre-purchase inspection focuses on. The Classic automobile check costs $349.99 and is worth it because of the attention to detail our car inspection efforts put into it. When it comes to our classic car inspections, we don't cut any corners. We will meet you at the location of the car that needs to be inspected. We work hard to make this process go as smoothly as possible for you, so you can enjoy your dream car as soon as possible with the comfort of knowing its full value before purchasing. Contact us today with any questions about our California car inspection services!
$349.99
…………………………………………………………
Classic Pre-Purchase Inspection Includes
Document review process
Title Status
Service and Maintenance Records
Document VIN Tag
Document Odometer Reading
Confirm Manufactures Data Label*, VIN Tag and Certificate of Title or Registration match
Search for Open Manufacture Recalls and Campaigns*
Ask the seller if the vehicle has been in an accident or major repairs performed
Car Check Report*
Body, Trim and Exterior Trim
Originality
Modifications fit and finish
Quality of aftermarket components
Exterior paint condition rating
Document post factory paint blemishes, cosmetic issues, environmental degradation, scratches, dings and dents
Body panel alignment
Post factory repairs (quality)
Headlamp lens, trim and glass condition
Impact strips, body seals and trim molding damage
Interior Trim and Cabin Functions
Originality
Modifications fit and finish
Quality of aftermarket components
Check for post factory wear and tear
Note scuff marks, holes, tears, stains, broke cup holder, switches and handles
System check all functions work, seats, belts, windows, locks, turn signals, lights, sound system cruise control
Climate control functionality and note any unpleasant odors
Check for signs of flood damage
Evaluate the overall condition of the interior given its age and mileage
Fluid Sampling and Charging Test*
On-Site Oil and Fluid Analysis – analysis of the fluid based on certified testing criteria that has been used in the laboratory environment for decades, radial planar chromatographic analysis.  The test is designed as an aid in determining the condition of the oils or fluids
On-Site Battery and Electrical System Analyzer Test – Using a patented conductance technology meter we are able to perform a battery and charging system analysis
Electrical
Complete systems check of all electrically powered components
Instrument panel gauges
Power Sunroof | Convertible Top
Headlights, Rear Tail and Running lights, Turn Signal and horn
Transmission
Fluid level check and fluid condition testing*
Check for Slipping
Check shifting abnormalities
Noises, clunks, whining and burning odor
Leaks
Undercarriage/Underbody
Check for impact damage
Note condition due to environment exposure
Does appear to have been off road
Driven on salt treated roads during the winter time
Scrapes or signs of bottoming out
Obvious damage to chassis
Post factory welds, repairs or modifications.
Signs of rust, corrosion or under spray
Inspecting wheel wells, rockers, lower rust prone panels
Suspension, Steering, Brakes and Tires
Excessive side to side play in steering wheel
Control arms, bushings and bellows
Rack and Pinion, Shocks and Struts
Braking abnormalities or veering
Check for abnormal tire wear, weathering or damage
Road test
An absolute must – We test drive the vehicle between 2-5 miles, noting any seemingly abnormal noises or driveability concerns.  We also assess the engines performance, steering responsiveness, braking confidence and transmission operation